Meet My Domina Friends
Let Me introduce you to some of My Domme friends, that I'd be happy to provide an unforgettable experience with.
Mistress Joy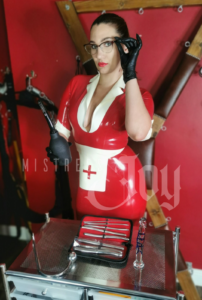 Mistress Joy is a Russian Pro-Dominatrix based in London. Classy and Sophisticated. But don't be fooled by Her gorgeous sweet face – She's very much sadistic! She's the meanest Queen you will ever meet, and She will not show you ANY mercy. She will strip you of your clothes and dignity.
Mistress Joy takes a great pleasure from physical, as well as, psychological torment and torture. She will mesmerise you with Her strikingly beautiful green eyes and when She has you under her spell, she will then toy with your mind, manipulate you and push you to your limits.
Mistress Alexia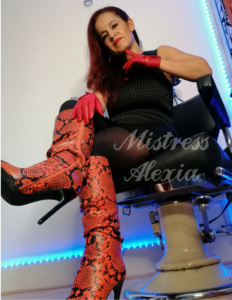 Mistress Alexia is a very experienced Colombian Domina, based in London. She's kind-hearted, and nurturing, but still very demanding, controlling and dominant. She's very straightforward, and She's clear about the things She desires.
She believes in strong fundamental basics of a Mistress/submissive relationship, which are transparency, sincerity, trust, complicity. She loves exploring your weaknesses, push your limits and expand your boundaries, providing wisdom and guidance, while leading you onto a path to true submission.
Lady Annabelle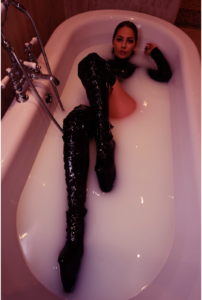 Lady Annabelle is a delightful, arousing and fabulous Professional Mistress. She can be strict yet erotic. She welcomes you to enter Her brilliant universe of delight and torment, an area full of mental and physical fun – one of a kind domination style of a sensual, erotic and sadomasochistic play. She will take you on a mind expanding and limit stretching journey, but rest assured, you will be safe in Her hands.
Goddess Seira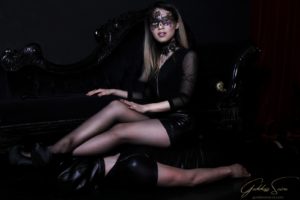 Goddess Seira is an Asian Professional Dominatrix in London. Elegant and sensual Goddess. She loves to play with your mind, and bring your darkest fantasies up by using your weaknesses. Once you enter Goddess Seira's Realm, you will fall at Her beautiful feet and let Her use you in any way She desires. Be ware tho! She loves to give pain physically and mentally. You will very easily fall under Her spell, and become Her puppet.
Lady Louisa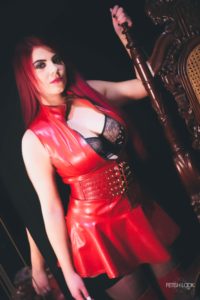 Miss Lady Louisa is an experienced and very sensual but sadistic powerful lifestyle Mistress and has a very diverse approach to sessions, typifying both the disciplinarian and the nurturing qualities within Her.
She has a creative imagination to cater for most kinks, with a particular penchant for all aspects of sissification, from initial make up, style and fashion choices through the complete transformation process, and advice on etiquette and deportment – all providing the most inspiring sissy play sessions and fulfilling servitude.
She can ultimately guide and train you to Her desires and realising the extent of kink within you. Miss Lady Louisa responds favourably to respectful and thoughtful approaches from Her subs (and aspiring subs!) at all times.
Ava Von Medisin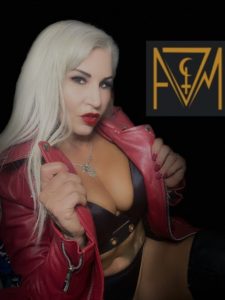 Mistress Ava Von Medisin is an English Elite Femme-Fatale Disciplinarian and Provocateur of Fetish Erotica.
Ardent of the profligate of 1950's glamour lingerie, stockings and killer high heels, She is very much a provocateur of Femme-Fatale eroticism.
The intensity of your weaknesses only indulges her arousal and excels her needs to release you of your strength of mind. Once captivated under her hypnotic charm, your mind, body and soul will be transfixed within a complexed entanglement of your utmost physical and psychological fears and desires.
Ava Von Medisin practices consensual BDSM with the highest level of privacy, cleanliness and personal understanding, taking into consideration the individual hard limitations and levels of those that are privileged to serve her.
She can be very intimidating when it comes to humiliation and she absolutely enjoys interrogation scenarios, where she can witness the sheer panic within the mind of a compliant slave as she subjects them to an intoxicating combination of fear, suspense and excitement.
Ava Von Medisin expects her slaves to be obedient, honest and respectful at all times.
Remember, serving her is a privilege
Mistress Lola Noir 
Mistress Lola Noir, is an exclusive professional and lifestyle Dominatrix. She offers sensual domination with an innate sadistic mischievousness.
Mistress Lola Noir enjoys and specialises in chastity, denial, CP, StrapOn play, and MedPlay – one of Her favourite.
Diana Von Rigg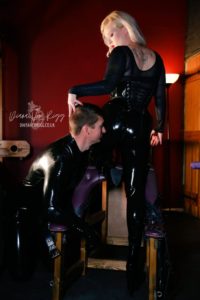 Mistress Diana takes great pride in Her natural Dominance and greater pleasure in Her natural ability to make even the most ego driven male submit to Her sensual sadism! She is an authentic, sensually strict british Mistress whos sadism holds no bounds when it comes to unsuspecting males.
She has an extensive experience with both seasoned subs and complete beginners.
Mistress Diana guarantees a confidential, judgement free environment when you're in Her hands.
She takes pride in Herself on Her enthusiasm, knowledge and true burning passion for all things FemDom.
Goddess Alimony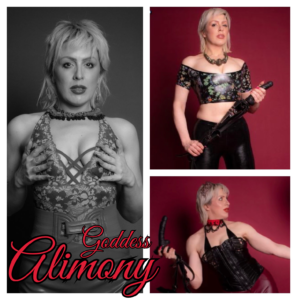 Goddess Alimony is a Manchester based Dominatrix for submissive's who seek to fulfill their desires to the fullest, under the steady hand and watchful eye. She is a Fetishist and particularly enjoy Financial Domination, Shibari, Sissification, Humiliation, pegging and impact play.
Goddess Alimony has almost 2 decades of experience within the adult industry and with this a unique understanding of men. As a sadist, She loves to incorporate Her life experience and creativity into sessions both online and in person. Whilst She have a no nonesense, witty approach to Femdom, Her nurting after care is second to none.