---
CHRISTMAS STRAP-ON PARTY and CHRISTMAS FOOT FETISH PARTY
LONDON W2 


THURSDAY 16th DECEMBER 2021


Get ready for
The STRAP-ON PARTY at 14:00
and
The FOOT FETISH PARTY at 18:00
on
THURSDAY 16th DECEMBER 2021!
Have you been naughty or nice??
Mistresses will decide!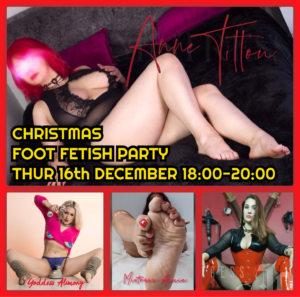 We know how much you fantasise about being in a presence of a group of Powerful Women.
To be in a total predicament and at Our mercy.
We do know very well! …and We are here to fulfil those fantasies!
We will hold two parties of a different theme that day:
CHRISTMAS STRAP-ON PARTY: 14:00-16:30 for the festive rogering.
CHRISTMAS FOOT FETISH PARTY: 18:00-20:00 for the festive mouth stuffing. 
Both parties will take place at My private and well-equipped play space, located in central London, W2 area (just minutes from Hyde Park).
The strap-on party will run for 2.5hrs, and the foot fetish party will run for 2 hrs, approx.
You can pre-select which one you want to attend to suit your circumstances and interests. So if you have plans in the evening, and are an anal play enthusiast, you can arrive at an earlier party and still make it to your plans at night, and if you're busy during lunchtime, and strap-on play is not your jam, you can attend a later party and enjoy the vibe that the evening brings.
Mistresses attending both parties: 
Goddess Alimony
Mistress Joy
Mistress Alexia
Miss Anne Tittou
READ ABOUT THEM HERE https://mistressannetittou.com/meet-my-domina-friends/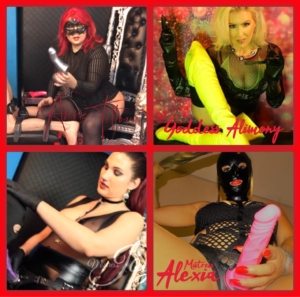 ENTRY FEE:
STRAP-ON PARTY: £200

FOOT FETISH PARTY: £180 
That's all in!
We require a 50% deposit* paid in advance, the rest of the fee to be paid on arrival (cash preferably please).
All levels of experience, and newbies are welcome!
COME! LET'S PARTY TOGETHER!
THERES SO MUCH FUN TO BE HAD!
WE ARE ALL VERY FRIENDLY AND APPROACHABLE!
Safety/COVID protocol:
To make play safe and comfortable for everyone, we require either:
a proof of vaccination (via NHS app)

a proof of negative results for NHS Lateral Flow Tests. To be taken the day before the Party and the morning of the Party. The test results can be registered via NHS website.
We will also check your temperature and provide hand sanitiser on arrival.
Wearing masks will not be compulsory (may be a bit tricky while worshipping feet especially), but would be greatly appreciated if you choose to wear one, and take if off only for the duration of the servitude.
The play space is fitted with an air sterilising UVC device, that will be on throughout the day. It's very efficient and of top quality.
There will be no food, only light refreshment provided free of charge.
*Non-refundable. Paid in advance.