FOOT FETISH PARTY LONDON, BAYSWATER.
THURSDAY 7th OCTOBER 2021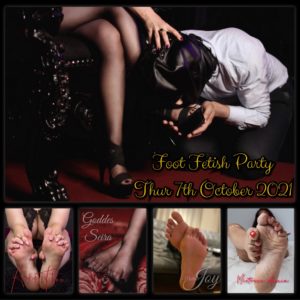 Are you longing to be at the feet of a Powerful Lady?
Do you desire to be of servitude?
Are you crazy about feet?

Well, you're in luck. We've got you covered!
We have an array of feet in sizes ranging 3 – 6.5 to satisfy your darkest fantasies at the LONDON FOOT FETISH PARTY – 7th October 2021.
I'm happy to announce that Foot Fetish Party (one of many to come) will take place at My play space located in London, W2 area.
We will hold two parties that day:
Lunchtime party: 13:30-15:30
Evening party: 17:00 – 19:00
The parties usually run for 2 hrs.
You can pre-select which one you want to attend to suit your circumstances. So if you have plans in the evening you can arrive at an earlier party and still make it to your plans at night, and if you're busy during lunchtime, you can attend a later party and enjoy the vibe that the evening brings.
Mistresses attending:
Goddess Seira
Mistress Joy
Mistress Alexia (evening party only)
Miss Anne Tittou
READ ABOUT ATTENDING DOMINAS HERE https://mistressannetittou.com/meet-my-domina-friends/
ENTRY FEE: £180 – 50% deposit* paid in advance, the rest on arrival (cash preferably please).

Only £180 entry fee, WOW, and that's all in!
Although, we don't require further payments, you can always tip a Lady of your choosing (but that's between the two of you), and I'm sure it'd be greatly appreciated.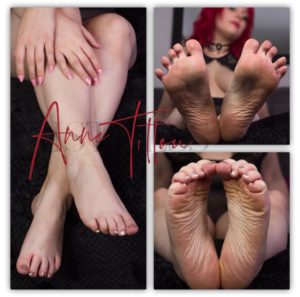 We all are dominant Ladies, and We like to dominate men with Our feet; either with a sensuous tease, or worship involving kissing and massaging, to more extreme practices like slapping and trampling – what happens it's between the two consenting adults tho.
COME! LET'S PARTY TOGETHER! WE ARE ALL VERY FRIENDLY AND APPROACHABLE!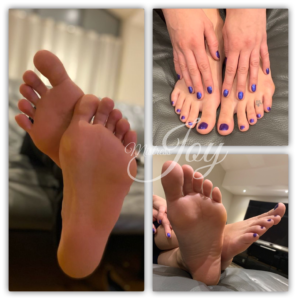 Safety/COVID protocol:
To make play safe and comfortable for everyone, we require either:
a proof of vaccination (via NHS app)

a proof of negative results for NHS Lateral Flow Tests. To be taken the day before the Party and the morning of the Party. The test results can be registered via NHS website.
We will also check your temperature and provide hand sanitiser on arrival.
Wearing masks will not be compulsory (may be a bit tricky while worshipping feet), but would be greatly appreciated if you choose to wear one, and take if off only for the duration of the servitude.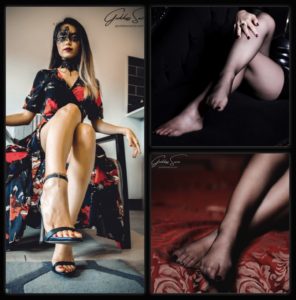 The play space is fitted with an air sterilising UVC device, that will be on throughout the day. It's very efficient and of top quality.
There will be no food, only light refreshments provided free of charge.
*Non-refundable. Paid in advance.