END OF SUMMER SPECIAL
Nothing lasts forever and the same goes for the summer season.
As August slips away, the summer heat will fade into a crisp autumn and flip flops will get pushed to the back of the closet. It feels like saying goodbye to a friend, doesn't it?
But instead of succumbing to the end of summer blues, it's the perfect time to book a double session with My friend and I.
Below, some of the most deliciously scrumptious offers to quell your summertime sadness and push you into autumn with high spirits.
Choose one of the following options, and remember to quote the code of the session you are interest in booking while making your enquiry. 
The END OF SUMMER SPACIAL is available on sessions booked in August/early September, and taken by Wednesday, 22 September 2021.
ESFW – foot worship session + verbal humiliation (optional)
1hr – £200
Book to kiss our beautifully shaped feet. 
ESCP – caning/spanking/cp scenario session
1hr – £200
Have you been a naughty boy, and in need of some correction? 
ESSO – strap on session
90mins – £350
Book for a relentless anal training and spit roasting fun!
ESST – sissy training/sissy play
2hrs – £450
Full transformation available. 
ESREG– regular BDSM session
1hr – £350
You will be at Our mercy, and We will do as we please with you – you are Our play thing!
Want to say your goodbyes to the long evenings, beach trips and sizzling summer temperatures with a bang?! Why not treating yourself to TRIPLE DOMME SESSION*** with Mistress Alexia, Mistress Joy and Myself?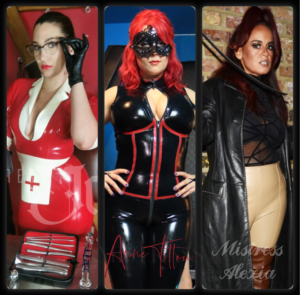 *Advanced bookings only. 50% non-refundable deposit required. 
**Your booking can be rescheduled only once with 24hrs notice. Any changes made to the booking with less than 24hrs notice, and made more than once will result in you forfeiting your deposit.
*** At an additional £100.